Regardless of the fact that I'm on vacation at home with very little to do, this week has sped by! I spent the first half of the week mad at my sewing machine for being dysfunctional and then I finally called my mom over to fix it and realized i had simply misthreaded it…
Once I finally figured it out, I made an over-the-shoulder bag for my friend from a beautiful Ana Maria Horner voile fabric
I made two more for little girls at the store today. It's a very simple bag, but perfect for the summer! I actually really like how the voile turned out – I was nervous it would be too thin, but as long as you're not putting anything heavy in it, it looks nice. A lot like the Free People shopping bags (that I love to collect…) I'll definitely be making more of these soon.
Also, this is the skirt that I wrote about earlier. Obviously another one of the same type. I'm just getting boring now! I do love love this fabric as a skirt though.
The most exciting part of my vacation so far has been the amazing, melt in your mouth crepes that I had when I went out to brunch with a friend. This restaurant was to die for! The decor, the food, the people. I would definitely like to live there.
For the most part, this week has been spent browsing through nothingness on the internet (It's crazy how much time gets sucked away when you're blog hopping!)
This outfit isn't too exciting or anything, but it's definitely similar to my go-to outfit this spring, which is probably why I was so drawn to it. I've been living in a big grey cardigan, boyfriend jeans and high waisted belt. I also love the beautiful color of her top! (Anthropologie)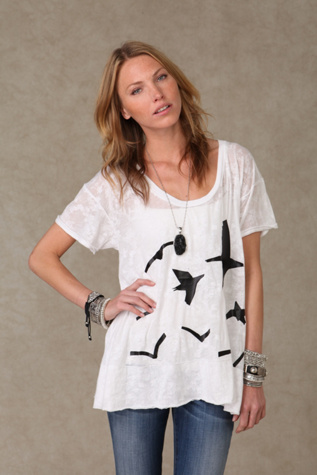 I haven't been able to stop thinking about silkscreening. We have most of the stuff at the store, but the problem is making the screens. So I've decided I'd love to try out the freezer paper method! The only problem is thinking of something not too difficult to cut out and one of the ideas that keeps coming up is a flock of birds. (Forever 21, Free People)