You are currently browsing the category archive for the 'Uncategorized' category.
Some things I can't get enough of right now:
Coach's Stefanie platforms – I love the color, the material, the design – everything about these shoes is perfect. Except for the fact that I have nowhere to wear five inch heels… (but who really cares about that part anyways)
There's something about J. Crew's newest makeup look that I just love. I've always loved 1960s-inspired makeup, but the pinkish tint and very subtle eyes updates it for the beach!
This new Free People background is currently brightening up my desktop and keeping me smiling 🙂
Regardless of the fact that I'm on vacation at home with very little to do, this week has sped by! I spent the first half of the week mad at my sewing machine for being dysfunctional and then I finally called my mom over to fix it and realized i had simply misthreaded it…
Once I finally figured it out, I made an over-the-shoulder bag for my friend from a beautiful Ana Maria Horner voile fabric
I made two more for little girls at the store today. It's a very simple bag, but perfect for the summer! I actually really like how the voile turned out – I was nervous it would be too thin, but as long as you're not putting anything heavy in it, it looks nice. A lot like the Free People shopping bags (that I love to collect…) I'll definitely be making more of these soon.
Also, this is the skirt that I wrote about earlier. Obviously another one of the same type. I'm just getting boring now! I do love love this fabric as a skirt though.
The most exciting part of my vacation so far has been the amazing, melt in your mouth crepes that I had when I went out to brunch with a friend. This restaurant was to die for! The decor, the food, the people. I would definitely like to live there.
For the most part, this week has been spent browsing through nothingness on the internet (It's crazy how much time gets sucked away when you're blog hopping!)
This outfit isn't too exciting or anything, but it's definitely similar to my go-to outfit this spring, which is probably why I was so drawn to it. I've been living in a big grey cardigan, boyfriend jeans and high waisted belt. I also love the beautiful color of her top! (Anthropologie)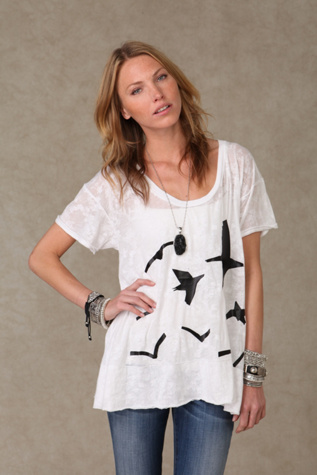 I haven't been able to stop thinking about silkscreening. We have most of the stuff at the store, but the problem is making the screens. So I've decided I'd love to try out the freezer paper method! The only problem is thinking of something not too difficult to cut out and one of the ideas that keeps coming up is a flock of birds. (Forever 21, Free People)
Lauren Moffat.
Nautical colors, fun accessories, and chunky leather sandals – what more do I need to get me excited about summer!
Yesterday I had the perfect day off spent in NYC with a bunch of my friends 🙂 we couldn't have had nicer weather and wandered all over the city.
Excuse the brief post, but I'm trying it out from my cell!
Time's Square – no matter how many times I visit, I can't help but get excited by all of the pretty lights and crowds at night
Urban Outfitters ❤
Trying on an Urban Outfitters shirt/top…It took a lot of effort to refrain from buying it, but I did it!
The only thing I bought all day 🙂 That's a lot harder than it seems when you're shopping with 5 girls all over the city! However, this was quite a rip off for a pretty crappy necklace…I just had to have it! It reminds me of Alice in Wonderland
Easter makes me fantasize about beautifully colorful Martha Stewart celebrations…
My day definitely wasn't anything like that. Maybe someday
But it was very nice going to church and out to breakfast with the family 🙂 The delicious Porterhouse steak at dinner was an added bonus.
I find it incredible how quickly everything started to bloom!
It's been semi-hectic, but lots more is on the way!
For lack of enough words to to introduce myself, here's a little
visual depiction
of everything me!
Okay, so maybe not everything (not even close actually), but you get the idea 😉
And one other important thing…I work in my own personal heaven – it's called Make & Mingle, and whenever anybody asks me about it I have no words to explain how giddy it makes me! So I vote you check it out for yourself so you get to see what I mean…
As for a quick bio concerning me and my love for clothes:
I love clothes. Nothing new, I always have. A quick anecdote so you get it – as a preschooler, my entire wardrobe consisted of dresses, patent leather Mary Janes, and frilly lace socks. One day my teacher finally called home to ask my mom if I could wear sneakers and pants to school so that I could play at recess. It did not go well, and not much has changed since then. (And yes, I do still own a pair of patent MJs, they've just got a much bigger heel now)
I love sewing. My guess is that this stems from my lovely Southern grandma Nannie, who must have spent days on end teaching me how to sew clothes for my dolls every summer as I was growing up. So, I've know to sew for ages, but until my new job, I pretty much stuck with a simple bag or fix-up here and there. Now imagine working at a store with fabrics that make you drool (think Heather Bailey, Anne Marie Horner, Jennifer Paganelli), and three of the most talented and creative bosses. You can imagine the inspiration. And since then I haven't been able to stop! I've started to dream about fabric…which is less embarrassing to admit to the abyss of the internet
I realize you're probably bored by now of my mini bio, which ended up being much less mini than I thought! So to keep it as short and sweet as possible, I love blog hopping, I love photoshop, I love making websites and voila – out pops a blog.
Here's my plan as of now: letting you all see my designs, my clothes crushes, giving some tutorials, and hopefully giving at least somebody some inspiration!
We'll see how it goes!!